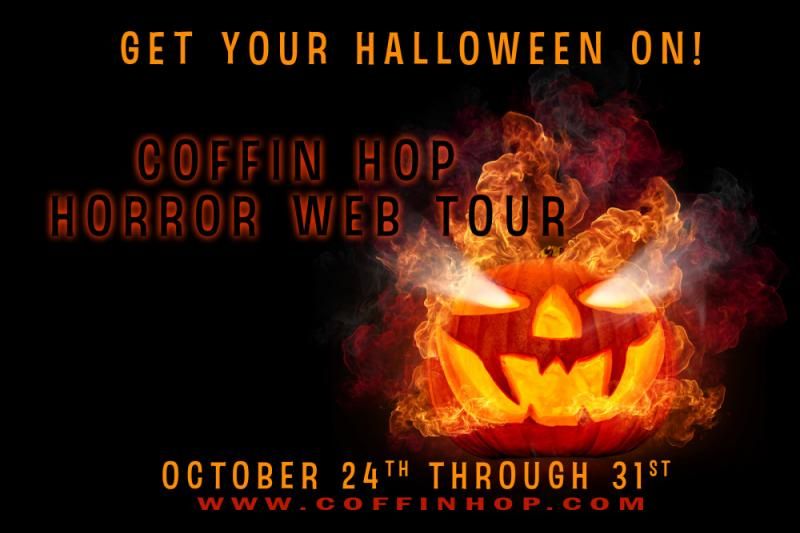 (Image design by atrtink.com)
Been a bit quiet around here hey? Never mind COFFIN HOP is back once again, showcasing the dark wares of hundreds of horror authors and artists from around the globe. So come and join the horrific blog hop where each participating blogger is giving away prizes! Win heaps of awesome free horror stuff and all just for a few mouse clicks!
This year I'm combining forces with the Kintsugi Poets Society where myself and fellow poets are sharing their dark, delicious delights for your enjoyment on the theme of "Terrible Myths & Legends". And here too you can win some more great prizes, including dark poetic works and an Amazon gift card :)
And right here, you can win free copies of my horror novel The Dark Horde - 3 copies in ebook (pdf) format are up for grabs, and if you win the grand prize, I'll mail you a signed copy of the paperback version completely free! Or if you'd prefer, you can get a ebook (pdf) copy of Evermore: An Introduction instead (or a signed copy of the paperback version mailed free if you win the grand prize).
You can enter any time, as often as you like up until midnight on the 31st of Oct (US EST time). In the event a winner doesn't claim their prize within 72 hours of being notified, another winner will be drawn in their place.
*** Click here to enter Brewin's 2014 Coffin Hop Giveaway ***
I'll leave you now with my first poem for the Kintsugi Poets Coffin Hop... With a little inspiration from the gamebook Sultans of Rema that I worked on (written by Gaetano Abbondanza and published by Tin Man Games), I've decided to share some terrible myths & legends with an Arabian theme... Enjoy!
TWICE THE FEAR
It was I thought an abandoned tomb
An ancient relic, in eternal gloom
But within this eldritch, slumbering womb
Lay an imprisoned terror… And my doom
I found it as I crossed this lonely desert land
It was but a stone wheel, buried in the sand
Perplexed by this discovery, I knelt to uncover it by hand
Revealing an archaic portal, whose purpose I could not understand
Gripping the wheel, I struggled to wrench it free
Eventually succeeding, and opened this portal of mystery
Before me stretched steps untouched since antiquity
Obscured by a foul darkness, through which I could not see
Curiosity ruled my thoughts, and so I began to descend
Holding a flashlight anxiously, wondering where they'd end
Down a hundred steps I went, before reaching a bend
And came to a cavernous expanse I could not comprehend…
Strewn across the floor were artefacts of stone and clay
Smashed and left to lie for the ages to this day
Yet over the remains hung the heavy stench of decay
More recent, undiminished, filling me with dismay
As I stood in silence, puzzling over what I'd found
There came from the hidden depths, a tortured sound
An inhuman groan, so intense it shook the ground…
Then I realised, something fearful towards me was bound
My trembling torch cut a swathe through the dusty air
But where I'd heard the noise, there was nothing there
Overcome with horror, I mouthed a silent prayer
But my fate was already sealed – I would die in this lair
Then from the dancing shadows, it began to appear
Half a torso, one arm and leg, hopping near
Its head half a mouth and nose, a single eye and ear
It was only half a man, but twice the fear
Faced with such nightmare, I strove to disbelieve
But it was the dreaded Nasnas, I failed to conceive
Spawn of a demon, my flesh it began to cleave
Ignoring my cries, my slayer, its domain I would never leave…