Freeplay 2012 - Some personal reflections
Yes the subtitle is needed, as I'm not going to pretend that these reflections are in any way representative of the festival or the experiences of others… I managed to attend only six talks/panels/workshops on the last two days, and was briefly at one of the after parties, so I did but take a small sample of what was on offer…

Freeplay is Australia's longest running independent games festival exploring the intersection of indie development, culture, arts and education.

This was my third Freeplay festival. I've previously spoken on the topic of "story design" at one of them (a spot I really only got because Neil Rennison of Tin Man Games recommended me), and for this one my Gamebook Adventures title Infinite Universe was nominated for best writing in a game, from out of 115 entries no less.

I didn't win, but considering the scale of the competition (triple the size of last year's and by far the biggest ever) and the increasingly high standard of these events, I can hardly complain… I'll just have to do better next time ;)
Yeah I know, I look pretty unhappy about only getting a top three finish don't I ;)
At risk of stating the blindingly obvious, any competition is subjective and based on the personal (however informed) opinions of those that cast the votes: which in the case of Freeplay was a select panel of experts. Perhaps you could say that there was a bias towards granting the awards to those that had attained the most exposure for their work, regardless of whether this was a conscious act or not, and this could even be applied to my own nomination, which I may not have received were it not a "Tin Man product". But this is simply human nature and not something that I consider reflects on the festival itself, just as much as it is human nature to value your own work (I'm the best damn it, why can't they recognise that!) more than that of others'. I mention this because yes, I do feel that "I deserved to win", but I want to acknowledge that I'm (inevitably) biased towards my own work, and mean no disrespect to the other competitors: many of whom perhaps felt the same way.

I was able to share a few minutes with another nominee (there were three) for best writing, Christy Dena, whom also missed out on the award. It would have been great to win of course, but we both agreed that being nominated among such a competitive field was something to be celebrated for its own sake: the glass is half-full if you will :) -Besides that, she was a wonderful person to meet (like so many others at Freeplay) and a true inspiration for the many things she has done and is doing: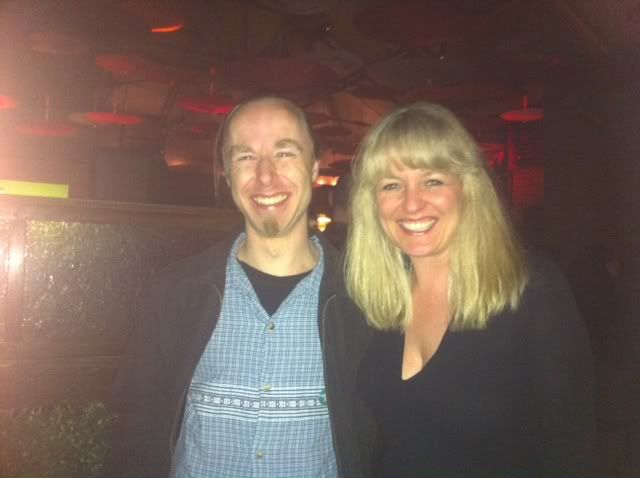 Sorry Neil, we didn't actually get to having a "dice off" haha, but shared some camaraderie instead.

Aside from this, I want to say how wonderful and extremely important it is to have a community which not only recognises these achievements, but engages people from both inside and outside the indie games industry with talks, discussion panels, workshops, exhibitions and crowd-participation games. It is a great chance to learn new things, to look at things in a new light, to hear of others' experiences, to have fun, and to reinforce what you do on your own locked away in a bubble, slaving away for many months and years…

And without the efforts of Neil Rennison (to take me on in the first place), Ben Britten (the academy-award winning coding guru who made it happen), Giselle Rosman (who through her efforts to run the Independent Game Developers Association chapter in Melbourne was how I was able to meet Neil) and Paul Callaghan (director of the Freeplay 2012 festival and co-director for many years, a writer himself who went out of his way to ensure that game writing had its own award), then I wouldn't have been there in the first place to get a nomination. Thank you all!

Lastly, if you want to know who actually won the Freeplay 2012 awards and learn more about their awesome works, go here.
(I especially recommend viewing the acceptance video for the best international game, if there was ever an award for "best acceptance video" then I think these guys would have it in the bag haha).
Stay Informed
When you subscribe to the blog, we will send you an e-mail when there are new updates on the site so you wouldn't miss them.
Comments
No comments made yet. Be the first to submit a comment